Four Post Lift Services
Whether you are beginning a new venture or are looking to relocate your business, here at MRB Workshop we have everything you could possibly need for a smooth transition. From large capacity lifts with maximum access to smaller lifts with a specialist application, our extensive range of four post lifts includes:
Load capacities of 12, 14, 20 and 24,000 kg
Long platform model for maximum front and rear access
Twin lifts with synchronised operate for longer vehicles (e.g HGVs)
Specialist fork lift lifts with 10,000kg capacity.
A four post car lift from MRB offers you the ultimate flexibility you need to carry out a range of commercial servicing and repair work. Our specialist lifts offer an extended platform length and load capacities of up to 24,000kg, allowing your garage to carry out work on larger vehicles including buses, trucks and delivery vehicles.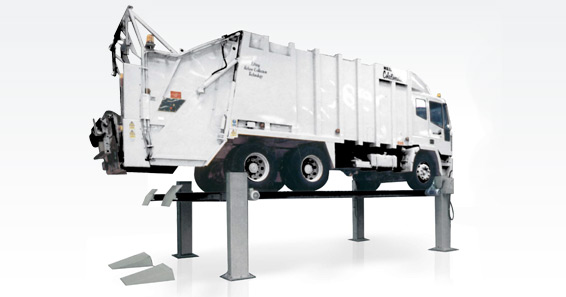 Specialist Four Post Lift Installations
We have experience in fitting a range of four post car lifts to a number of garages and can provide your business with our exert skills too.
Whether you require maximum access for larger vehicles, or require specialist systems for dealing with warehouse vehicles, we can advise on the most appropriate four post car lift to meet your garage's needs.
Give us a call on 0161 793 4040 and a helpful member of our team will help you get your business off the ground.
Download technical Specification